Map Unavailable
Date/Time
Date(s) - Jun 13, 2022
9:00 am - 3:00 pm
Categories
Deepening our Practice in South Asian Community (GS1D22)
Gullu Singh, JD and Neesha Patel, PhD
Registration closes at 8:00 a.m. (Pacific Time) on June 12, 2022. A waiting list will be created if the program fills early.
---
Open to: Self-identified South Asian descent
Tasting the Dhamma: Deepening our Practice in South Asian Community
Description:
The opportunity to retreat from our busy lives, to slow down, unplug, and allow the mind to settle and gather can be profoundly beneficial in allowing us to look more deeply within ourselves. Join us for a day of silent meditation practice in community with other self-identified folks of South Asian descent.* We will devote this day to the practice of loving awareness in noble silence, and offer guidance rooted in the Buddhadhamma—including instructions for sitting/stationary meditation, and walking/movement meditation. We will cycle between the two forms of meditation for the bulk of the day. Some opportunity for relational mindfulness practice in groups will take place at the beginning and end of the day.
*One way to define "South Asian" is as people who trace their ethnicities to one of the following places: Afghanistan, Bangladesh, Bhutan, India, Maldives, Myanmar/Burma, Nepal, Pakistan, Sri Lanka, and Tibet.
All are welcome! No one will be turned away for lack of funds as space allows. For more information, please email Registration@spiritrock.org.
About the Teachers
Gullu Singh teaches the Dharma and secular mindfulness, is a corporate real estate attorney and a dedicated Dharma practitioner with a particular interest in integrating the insights and cultivation from retreat practice into daily life and work. While he was taught meditation as a child, he found his own practice in 1993 in Transcendental Meditation, […]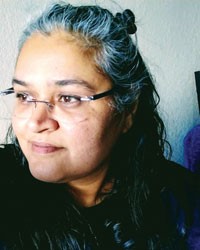 Neesha Patel is grateful for the joy and privilege of sharing the Buddha's teachings. She has been fortunate to have had the opportunity to learn and practice in both Asia and the US. Her meditation practice has been deeply influenced by the guidance of many wonderful teachers including Sayadaw U Tejaniya and Ajahn Sucitto. She […]